Of course, some people might recognise the title. Sabaku no Gaara (砂瀑の我愛羅) being a character from the anime series. The name means: Gaara of the Desert. The name Gaara (我愛羅) itself is a combination of: ga-a(i)-ra, meaning: I, love, demon. In general you could read it as: "I love myself, I am a demon."
The kanji 'ai':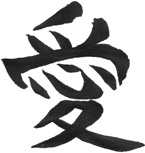 For some reason I love this Kanji. Consists of 13 strokes.
DragonFly is pushing along nicely, Emiel a.k.a. coolvibe has managed to get into contact with the NVIDIA guys and is now even getting prerelease drivers! Way cool. Thanks to all the people supporting DragonFly in any way, your enthousiasm is what keeps us moving along.
One of my plans for DragonFly's support is bootable images for ISO 9660 and diskettes which do various reporting on BIOSes and the like. This should provide clues into the wonderful world of whacked implementations.
I also started work on the bdb (BSD-licensed debugger) in order to support my own work as well as DragonFly.