In 2008 the Olympic Games will be held in Beijing (北京 : bei – north, jing – capital) China (traditional: 中國, simplified: 中国).
There are probably a whole lot of Chinese people who do not support their own government in some of the things that they do and for those I feel pity for what I am going to do. I am going to file complaints about the games being held in Beijing, China due to their continuous violations of human rights, especially with regard to Tibet and its inhabitants.
I sincerely wonder why the IOC is so reluctant towards listening to these complaints of human rights violations. In the Athens 2004 opening speech the President of the International Olympic Committee, Dr. Jacques Rogge, was heard saying:
"Our world today is in need of peace, tolerance and brotherhood."
Where is the peace for the Tibetans Mr Rogge? Have they as a people complained as loudly as the Palestinians? The Israelis? Have they demanded liberation through armed forces? No, they have been quiet, they 'fought' their fight through what they uphold as very dear in their life, their buddhist upbringing, the knowledge that their political and spiritual leader, the Dalai Lama, is safe in Dharamsala, India. How then can you speak of peace, tolerance and brotherhood while you allow to let these games take place in a country that shows some of the least interest in giving people their universal rights as determined in the Universal Declaration of Human Rights as adopted and proclaimed by General Assembly resolution 217 A (III) of 10 December 1948? (source: http://www.un.org/Overview/rights.html)
Some examples:
Article 2: Everyone is entitled to all the rights and freedoms set forth in this Declaration, without distinction of any kind, such as race, colour, sex, language, religion, political or other opinion, national or social origin, property, birth or other status. Furthermore, no distinction shall be made on the basis of the political, jurisdictional or international status of the country or territory to which a person belongs, whether it be independent, trust, non-self-governing or under any other limitation of sovereignty.
"Religious practice was forcibly suppressed until 1979, and up to 6,000 monasteries and shrines were destroyed.
After serving arbitrary sentences imposed for pro-independence activities, nuns and monks released from prison are frequently banned from rejoining their nunneries."
(source: http://www.freetibet.org/info/facts/fact1.html)
Article 3: Everyone has the right to life, liberty and security of person.
"March 19, 1959. Fighting broke out in Lhasa late that night and raged for two days of hand-to-hand combat with odds stacked hopelessly against the Tibetan resistance.
At 2.00 am the Chinese started shelling NorbuLingka. The Norbulinka was bombarded by 800 shells on March 21 Thousands of men, women and children camped around the palace wall were slaughtered and the homes of about 300 officials within the walls destroyed. In the aftermath 200 members of His Holiness the Dalai Lama's bodyguard were disarmed and publicly machine-gunned. Lhasa's major monasteries, Gaden, Sera and Drepung were shelled -the latter two beyond repair – and monastic treasures and precious scriptures destroyed. Thousands of their monks were either killed on the spot, transported to the city to work as slave labour, or deported. In house-to-house searches the residents of any homes harbouring arms were dragged out and shot on the spot. Over 86,000 Tibetans in central Tibet were killed by the Chinese during this period." (source: http://www.tibet.com/Status/10march59.html) Do note that the 86.000 number is the Chinese government estimate, numbers from Tibet were sooner up in the 430.000!
"Some 1.2 million Tibetans are estimated to have been killed by the Chinese since 1950." (source: http://www.freetibet.org/info/facts/fact1.html)
On the 31st of March, 1959 "[i]t is estimated that 2,000 people died during the three days of fighting between the Tibetans and the Chinese army." (source: http://news.bbc.co.uk/onthisday/hi/dates/stories/march/31/newsid_2788000/2788343.stm)
"Tenzin Deleg Rinpoche, one of the most important religious leaders in Tibet, has been sentenced to death (suspended for 2 years) by China for a crime he did not commit and could be executed in December 2004." (source: http://www.freetibet.org/campaigns/tdr/index.html)
Article 5: No one shall be subjected to torture or to cruel, inhuman or degrading treatment or punishment.
"[…] These protests consisted of two incidents on 1 and 4 May 1998 in which both criminal and political prisoners shouted slogans in support of the Dalai Lama and of Tibetan independence during meetings at the prison to mark the visit of a European Union "troika" delegation. The 4 May protest coincided with the visit to Drapchi of the EU ambassadors, though it is still not clear whether the protest took place before or after their visit. Prison officials had selected representatives from different units, including more than 60 monks, to attend a meeting on this date when prisoners suddenly started shouting "Free Tibet" slogans. According to unconfirmed reports, political prisoners who were being held in cells nearby joined in with the shouting. Prison officials retaliated by beating political prisoners and inmates involved were isolated from other prisoners in solitary confinement cells. Six nuns, three monks and one layperson reportedly died following torture and beatings at the prison." (source: http://www.tibetinfo.co.uk/news-updates/nu150999.htm)
"Beatings and torture with electric shock batons are common; prisoners have died from such treatment. In 1992, Palden Gyatso, a monk who had been tortured by the Chinese for over 30 years, bribed prison guards to hand over implements of torture. The weapons, smuggled out of Tibet, were displayed in the west in 1994 and 1995." (source: http://www.freetibet.org/info/facts/fact1.html)
Palden Gyatso with in front of him the tools of torture (click on the photo for a bigger one):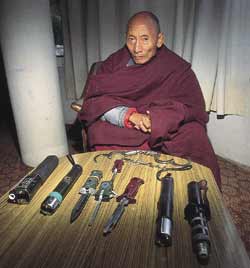 "The primary objective of Tibetan Torture Survisors Program is to provide holistic treatment and rehabilitation to Tibetan torture survivors who have escaped into India, and create awareness of the mental health problems in the community in exile. Treatment is provided through the use of both allopathic and traditional Tibetan medicine. In 2002, the programme provided treatment to 136 clients, and it is estimated that it will provide treatment to 160 clients in 2003." (source: http://www.irct.org/usr/irct/home.nsf/unid/JREW-5MSCPK?Open)
Article 9: No one shall be subjected to arbitrary arrest, detention or exile.
Also from that source (http://news.bbc.co.uk/onthisday/hi/dates/stories/march/31/newsid_2788000/2788343.stm): "The Dalai Lama was offered asylum in India and settled in Dharamsala, in northern India.
He was followed into exile by about 80,000 Tibetans, most of whom settled in the same area, which has become known as 'Little Lhasa' and is home to the Tibetan government-in-exile."
"To date 16 Tibetans have been detained, arrested or disappeared in relation to this case (of Tenzin Deleg Rinpoche), some for simply trying to pass information on the case to the outside world." (source: http://www.freetibet.org/campaigns/tdr/index.html)
"Some 3,000 people are believed to have been detained for political offences since September 1987, many of them for writing letters, distributing leaflets or talking to foreigners about the Tibetans' right to independence.
The number of political detainees in Lhasa's main prison, Drapchi, is reported to have doubled between 1990 and 1994. The vast majority of political inmates are monks or nuns. A political prisoner in Tibet can now expect an average sentence of 6.5 years.
Over 230 Tibetans were detained for political offences in 1995, a 50% increase on 1994, bringing the total in custody to over 600."
(source: http://www.freetibet.org/info/facts/fact1.html)
Article 10: Everyone is entitled in full equality to a fair and public hearing by an independent and impartial tribunal, in the determination of his rights and obligations and of any criminal charge against him.
"The Chinese have refused to allow independent observers to attend so-called public trials. Prison sentences are regularly decided before the trial. Fewer than 2% of cases in China are won by the defence." (source: http://www.freetibet.org/info/facts/fact1.html)
Also, as your Executive Director, François Carrard, said on the thirteenth of July, 2001: "Some people say, because of serious human rights issues, 'We close the door and say no.' The other way is to bet on openness. Bet on the fact that in the coming seven years, openness, progress and development in many areas will be such that the situation will be improved. We are taking the bet that seven years from now we will see many changes."
The comment above is extremely fragile in light of Amnesty's reporting: "In April 2001, the central authorities issued directives to intensify the "strike hard" campaign against crime. This resulted in tens of thousands of arrests and a record number of executions in the following weeks. Within three months, from April until early July 2001, Amnesty International recorded 2,960 death sentences and 1,781 confirmed executions. This rate of executions had not been recorded in China since a previous major "strike hard" campaign against crime in 1996." (source: http://web.amnesty.org/library/Index/ENGASA170282001?open&of=ENG-369
So I ask you, Mr Rogge, what more? How many more examples do you need? World War II cost about 5 to 6 million Jews their lives, yet we have been standing by whilst 1,2 million Tibetans already died. How much more can we, as mankind, bear to have on our name by being apathic? So we reward a country that has been treading your motto —our world today is in need of peace, tolerance and brotherhood— with combat-booted feet since 1950 by giving them the privilege to be the host for the Olympic Games? I sincerely hope you have moral issues with this.
Support the Tibetans, free Tibet!